There is an article about Christophe and his Bill & Ted Day Party in today's Norman Transcript! Go pick up a copy if you can.
Bill and Ted Day Party at Red Brick Bar: Norman musician hosting 'excellent' event
By Doug Hill | For The Transcript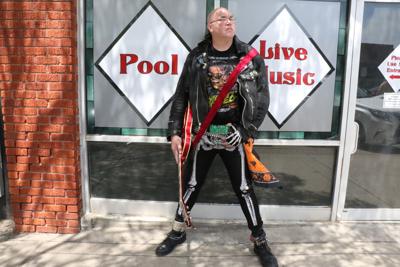 Christophe Murdock has been a part of Norman's arts scenes since he was a young teenager.
A generation later, he continues making music, designing graphics and acting, while residing here with his cat and chickens. Murdock believes in cultivating the artistic community and organizes events with that aim.
Annual Christmas parties, held in 2021 at Resonator Institute, and one celebrating the Bill and Ted science-fiction comedy franchise are among his favorites. This year the Bill and Ted Day Party will be at 8 p.m. June 9 at the Red Brick Bar, 311 E. Main St.
"June 9 has quickly become recognized as Bill and Ted Day," Murdock said. "It's a themed holiday where people around the world make a concerted effort to be excellent to each other and party on, dude. Why June 9? Sixty-nine dudes. It will be a special concert with two bands and a wild time."
Christophe and the Love Donations and Modern Issue will be performing live.
Murdock encourages attendees to come in costumes of their choice; he awards prizes. There's an air guitar contest when the event hits full stride.
"My prizes this year are really nice Bill and Ted baseball caps, socks and a T-shirt with the Ziggy Piggy ice cream eating design," he said. "There's signed original art and Bill and Ted trading cards from back in the day I'll be giving away for the first several people who show up. We just have a good time and have fun."
Murdock began playing in bands when he was 15. He started in the late 1990s era of punk rock outfits performing at Norman's American Legion Hall and in-store concerts at now-defunct CD World. Presently Murdock's biography, discography, sound and video are posted at christopheonline.com.
Most recently, he's been performing with A4A ("Songs for the Apocalypse").
"I've played punk rock, rock 'n' roll, heavy metal, country, hip hop and electronica," Murdock said. "It's what I do, I play music. I write songs, do some acting like in film 'Son of the Saw' that you can watch on YouTube now. Along with some other background acting, that's just a side hustle to make money. I sell my art work and prints at conventions and concerts. I just like to create and have always had the need to do that."
On one occasion, Murdock created a doll that looked precisely like his girlfriend. He makes album cover art for other bands.
"I always have to be physically making something," he said.
Murdock comes from an artisan and maker tradition. He's a proud member of the Kickapoo Tribe of Oklahoma, headquartered in McCloud.
"It's who I am," he said. "It's the way I was raised. I'm a half-breed, a white mom and an Indian pop. Being Kickapoo has always been part of my life. It influences everything that I do. I don't really know anything about my white heritage except that my grandmother said our ancestors came to America so we're Americans. But I was raised around a bunch of Indians."
Murdock's experience is one not uncommon on red dirt.
"It made me angry because none of the white people liked me because I was too Indian and none of the Indians liked me because I was too white," he said with a chuckle. "So I got my ass kicked by both of them when I was a little kid. So some of my spite probably came from that. We went to the powwows all the time and I loved it — the pageantry, and there's nothing like hearing the drums and chanting. It fills up my soul when I hear it. If you like arts, music and dancing you should check out a powwow. Unless you're dead inside, it will touch your soul."
Murdock has found Norman a receptive place to live and create.
"I live within an hour of my mom so I can quickly get over there and help out," he said. "Of all the places I've lived in Oklahoma, people in Norman don't care if you look different. They let you be and do your own thing, more so than other towns. I don't have some hillbilly here want to kick my ass when I'm walking down the street. All my neighbors are really cool."
Murdock has become part of the Resonator Institute creative community on E. Main Street.
"I love Resonator," he said. "They're all about the arts and helping people out. They've added me to their last couple of meetings. I volunteer my time running sound for some of Resonator's concerts."
Murdock credits the animals he takes care of for taking care of him.
"My cat and chickens keep me alive," he said. "There have been days when, because of anxiety, I didn't even want to get out of bed. My cat Elsa makes sure I wake up every morning to feed her. I have to get up to feed her and the four chickens. I had to chase a hawk off one and bring her inside. After a half hour she was back to normal. I get an egg from each of them every morning."