As I'm sure you all know,
DAMAGED Hearing
is my favorite radio program. The DJ,
Louis Fowler
, is a fellow Okie and a good friend. Make sure to stop by and check out his blog's. Here's the radio playlist from when I stopped by the
KRFC
studio in Fort Collins, while out on the road.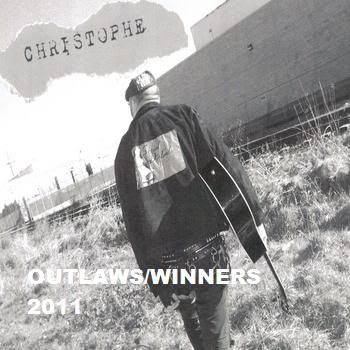 OK, C'MON YOU JERKS LETS GET PUMPED AND RIPPED! NO AGONY NO BRAGONY!
Rollins Band-"Liar"
Danzig-"Mother"
Aerosmith-"Draw the Line"
Motorhead-"Enter Sandman"
"Dang dude, you are definitely kicking out the jams today!"
- Casey
Ben Prytherch-"DAMAGED Hearing"
Shooter Jennings-"An Unreleased TV Theme Song"
Ah. That's better. Cool down time. Sadly, in a reference that I didn't think would be dated two weeks later, I use the phrases "WINNER" and "TROLLS". Oh, if I knew then what I knew now...
Luckily, I save face by interviewing one of my favorite singers, Oklahoma outlaw country musician Christophe Murdock, where we talk about being on the road, honesty in music and OKC's old 66 Bowl.
Christophe Murdock-"The Life Of An Outlaw (Live on DAMAGED Hearing)"
Christophe Murdock-"Misery Road (Live on DAMAGED Hearing)"
"Wish I'd have heard of Christophe before right now!"
- Mike CadaverLab
Christophe Murdock-"Taken Under (Live on DAMAGED Hearing)"
Christophe Murdock-"Road Rash (Live on DAMAGED Hearing)"
A long, fun interview with a great singer. Check out his new album CROSSROADS here. Makes me wish I was back in OKC.
Christophe Murdock-"Red Dirt"
Imperial Rooster-"Pigfork Jamboree"
Leroy Powell and the Messengers-"Telluride"
Rachel Brooke-"Lonesome for You"
Northern Colorado's own champion against the New World Order, Richard LoCoco calls in to defend his friend Emilio Estevez--the real person who's hurting in this whole Sheen-fiasco. I'm also about to get info about his investigations about Building 8 at Ground Zero, his upcoming teen-comedy DOWN AND OUT IN BOHEMIAN GROVE, and President Soetoro's latest birth controversy, this one which places him in Seattle. INTRIGUE!
Charley Pride-"The Bottom Line"
Charley Pride-"Kiss An Angel Good Morning"
U2 & Johnny Cash-"The Wanderer"
"You are killing it at Go West."
- Max
Freddy Fender-"Vaya Con Dios"