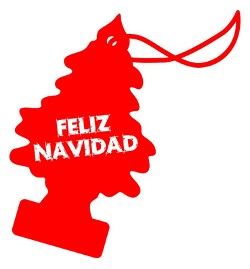 "Caught the end of Live at Lunch... ugh... glad to hear the dulcet tones of Mr. Fowler!"
- Mike CadaverLab
Louis Fowler, Scott B. and Lyle Allen-"A KRFC Christmas Carol"
Cheekyboy-"Biggie's Last Christmas (Puff Daddy and Notorious BIG vs. Wham!)"
Before the show, Hoogie had photoshoot for the COLORADO PAW PAGES magazine--he being featured for his work on DH--so I was in an extra happy mood because that meant that Hoogie would be co-hosting a VERY SPECIAL CHRISTMAS episode with me! One that would be full of tacos and cheer and goodwill and all that.
"I'm listening even as i type. The miracle of the Interweb!"
- Douglas
Ben Prytherch-"DAMAGED Hearing"
Every Christmas, DAMAGED Hearing has numerous traditions. The first of which is, by adding a jingle bell sound effect in the background, you can turn any song into a Christmas song. Last year it was "Fancy" by Reba. This year? A two-fer you guys:
R. Kelly and Louis-"Bump N' Grind (XXXmas Mix)"
Tag Team and Louis-"Whoomp!There It Is (Whoomp! It's Xmas Mix)"
"I am a big supporter of both "bumping" and "grinding" -- especially around the holidays."
- Matt
I'm left winded, but I'm still in good enough spirits to annoy the piss out of my audience. My Christmas gift to them? Eight different versions of "Feliz Navidad", the greatest Christmas song of all time!
Jose Feliciano-"Feliz Navidad"
Boney M.-"Feliz Navidad"
David Hasselhoff-"Feliz Navidad"
Công Thành and Lynn-"Feliz Navidad"
"Feliz navidad!"
- Kristy
Charo-"Feliz Navidad"
Kathleen Ohlsson (Slitz)-"Feliz Navidad"
El Vez-"Feliz Navidad"
Aqua Teen Hunger Force-"Feliz Navidad"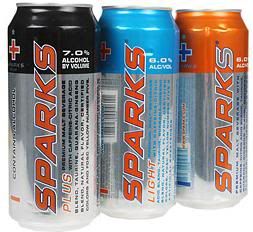 I brought my guitar into the studio today, and the fact that I am by no means a good singer or guitarist doesn't stop me in the slightest from performing a (I'm pretty sure) ten-minute long version of "Feliz Navidad" that is fueled by a non-stop sipping of Sparks holiday cocktails.
"you got a great set o' pipes on you mister."
- Mike Wing
Charo-"(Mamacita) Donde Esta Santa Claus?"
Raphael-"La Última Navidad"
Speedy Gonzales-"The Hat I Got for Christmas is Too Beeg"
Patton Oswalt-"My Christmas Memory"
The Chipmunks-"The Chipmunk Song (Slowed Down)"
The Sparks that Hoogie and I are ingesting is sending this part into lampshade-mode. Hoogz gets on the mic and starts barking everytime I ask him if he wants a taco for Christmas. Boy does he! He requests that we sing a duet of Wham's "Last Christmas". It is very heartfelt.
"I think Hoogie WANTS SOME TACOS!"
- Freddy NOTLP
Jimmy Buffett-"Christmas in the Caribbean"
Hernando Hopkins and Orchestra-"Rudolph, the Red-Nosed Reindeer (Cha Cha)"
Los Del Rio-"Macarena Christmas"
(When I played this, everyone in the station came inside the studio and started Macarenaing. It was mildly embarrassing.)
Big John Greer-"We Want to See Santa Do the Mambo"
Peter Rugolo Orchestra-"Jingle Bell Mambo"

Let's give back and get serious and remember the reason for the season with this slow jamz...
New Kids on the Block-"This One's For the Children"
MC Hammer-"Have You Seen Her? (Looking for Xmas Mix)"
Norwegian Recycling-"Miracles"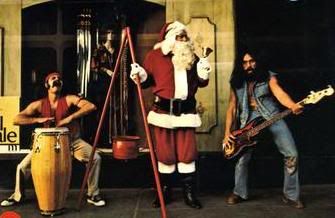 My other Christmas tradition? A replay of Andy B. and mine's cover of Cheech and Chong's stoner Xmas classic. We recorded it, live on the air, about five or so years ago. It was one of the first times I was on the air and people seem to love it. At least people who like weed.
Louis Fowler and Andy B.-"Santa Claus and His Old Lady"
Christophe-"Merry X-mas (I Don't Wanna Fight Tonight)"
Here's to hoping that each and everyone of my listeners had a Merry Christmas. Seriously!
Freddy Fender-"Vaya Con Dios"
"You're the best thing on the radio...no lying!"
- Freddy NOTLP